JET BOY STOLE MY BABY!
You're in real luck if you somehow manage to combine being in any of these places on these dates and actually being me:
27 Oct. Ft. Lauderdale, FL - Culture Room
28 Oct. Orlando, FL - House Of Blues
29 Oct. New Orleans, LA - Voodoo Music Festival
30 Oct. Memphis, TN - Voodoo Music Festival
as you have the chance to see the early
screenings of the movie New York Doll
, according to Pitchfork. Focusing, surprisingly, on the life of Dolls Bass player Arthur 'Killer' Kane it promises to be by turns brilliant, yet tragically sad. Much like the band then.
I, by contrast, can expect to finally see it at The Metro Cinema, Green Lane, Derby sometime towards the end of 2007.
But at least the news of it's existence gives me an excuse to put up a picture of the glorious, glorious Dolls. I don't know who's more shameless, them or me.
New York Dolls (l-r) : David, Johnny,
Syl, Jerry, Arthur.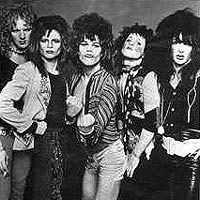 And because OBVIOUSLY we need BOTH line-ups, right? :
Arthur, Billy, David, Syl, Johnny.
I feel much better now.