I'LL HOLD MY BREATH UNTIL I GO BLUE.
It's good news that Kevin Shields from My Bloody Valentine has
remixed The Go! Team
, even better news that amongst other songs he's got his mitts on the superb 'Ladyflash' but ultimately bad news because he'll probably recall the tapes on the day of pressing and insist on tweaking them until about 2023. In fact, there was no mention of a new My Bloody Valentine album in all of that
John Titor
stuff, was there?
And as I lean back in my rocking chair (that's 'rocking' chair, like a rocking chair, but fast) I'm reminded of how Alan McGee maintains that in between the time of My Bloody Valentine departing Creation Records to sign to Island Records (around 1991) and, well, the present day the only piece of music that Kevin Shields has delivered to his new label is a cover version of the song 'We have all the time in the world'. If that story's true, it's sheer situationist genius.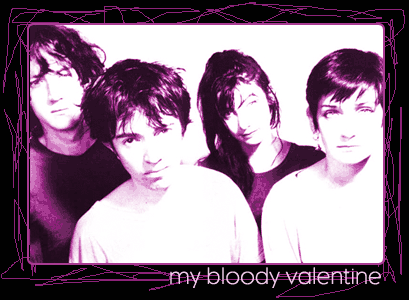 MBV in their heyday : Just 'cos I can
Go
here
and play the second song down to hear 'You Made Me Realise' in all it's insane glory.